The ultimate fox trap, The Trap Man Professional Fox Trap
Dimensions of our Professional fox cage trap are a FULL 5ft long x 20" tall x 18" wide.(not including the slide assembly which is 38" tall)
It is made from 4mm diameter welded wire which has 2" holes, the door slide assembly is fabricated from heavy duty steel and the trap is electro galvanized after manufacture to prevent it rusting.
Our ultimate fox trap, The Trap Man Professional Fox Trap
The New pro fox traps have been designed with a free-fall drop door which effectively lengthens the already long fox trap by not operating the door inside the trap, other manufacturers fox traps hang their doors from the inside of the cage thus lessening the cage size by almost the height of their fox trap. i.e. a 48" x 18"x 18" fox trap ONLY has a useable catching length of 32", this becomes even less the taller the cage.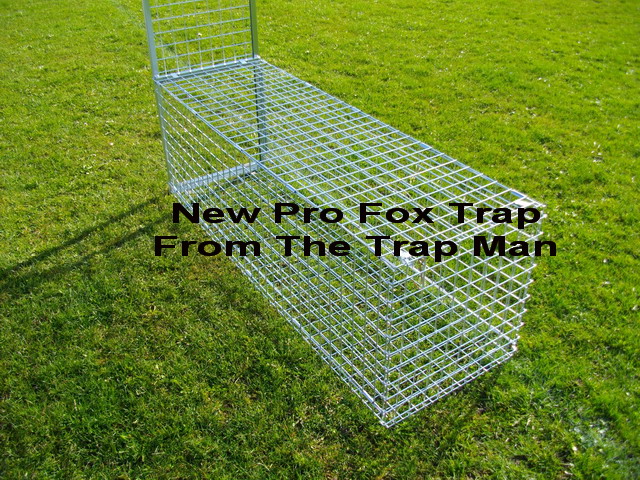 NEW Professional fox trap by The Trap Man is supplied folded for ease of delivery, assembly should only take minutes, its only a matter of unpacking the trap, unfolding the cage, lifting up the rear frame and attaching the tabs to the rear panel then offer up the slide assembly to the front of the fox trap and attach the tabs (using pliers) to the fox cage.
Bait using a 3" piece of kipper or oily fish placed in an old sock tied to the bait hook, drop this through the top of the cage 6" from the end.
Set the door by pressing your booted foot against the door base and lifting the door up, once a the full height pull the setting bar forward so that the door rests upon it.
Up and catching in less than 15 minutes.
Now the bad news........the cost!
Well £199.99 all in.....thats, vat and UK mainland delivery included